1. This is my first Midwest winter, and I have to be honest and disclose that Cincinnati doesn't get Midwest winters like the rest of Ohio or the surrounding area. But it still gets something a million (approx.) times worse than what I've ever dealt with before. I have never really understood the phrases
stir crazy
or
cabin fever
. I totally get it now. The winters in Oregon are long and grey and rainy, but if you want to go out, just scrunch your hood on tighter, put your head down and go. Here, I cannot go outside on some days because my bones stop working, my lungs stop working, and I am actually afraid that I won't make it back in. I've been informed, rather scoffingly, that "it's not really
that
cold". And perhaps it's not, compared to the surrounding areas. But I'm not used to it, and my chronically ill body doesn't adapt well. I keep looking up vacations that I cannot take, because it makes me feel better to remember that there is a world that is actually not in my living room or at the CVS down the street. Even though the weather is behaving better this week, it's still too cold for me. It's heartbreaking to hear the birds start doing their pre-spring thing, and to not be able to even open the window for it!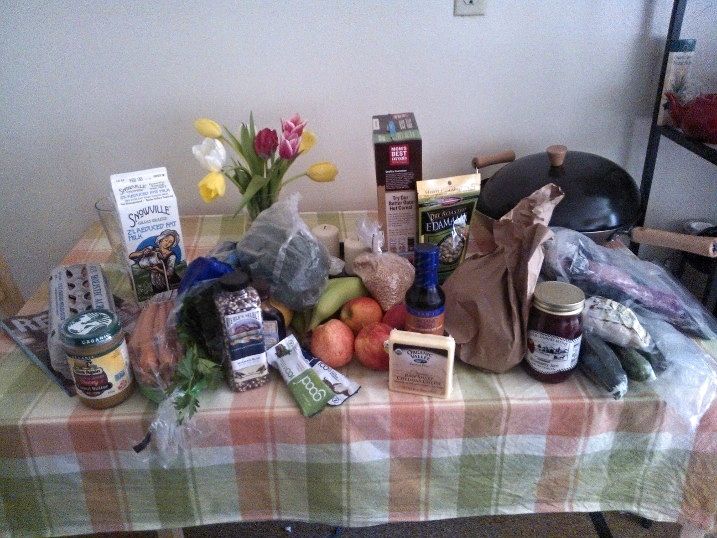 2. There is nothing more amazing than having your groceries delivered. Really. Sure, it's a tiny bit more expensive. But the bones, they do not break, the car, it does not make that really weird sound as it tries to go uphill against all the salt and the cold, the lungs, they do not ice over. Grocery shopping is something that's generally pretty hard for me, Fibromyalgically speaking, so this service from Green Bean is pretty awesome year round. It brought tears of joy to my eyes this week, as I wandered around the house with two (2!) pairs of fleece leggings on.
3. When you can only leave the house sparingly, getting things in the mail is really amazing. It really helps me with my feeling trapped to get a pretty thing in the mail! I find myself signing up for various free samples of things more than I'd like to admit, just to have some sort of contact with the outside world. I finally signed up for the Julep Maven box, and I'm really happy with it. I like doing my nails quite a bit, but I had to stop because I got really concerned about the chemicals and the ethics of the companies I was purchasing from. Enter Julep. You still can't, like, ingest this stuff but it's far less harmful, plus is has that happy little bunny icon on the bottom that makes me feel all fuzzy inside. I can't imagine I'll use enough nail polish to warrant getting the box every month, but after this next month it should be warm enough for me to venture out a little bit anyway!
4. Tea and books have always been my best friends. This winter, I'm reading my way through an encyclopedia on Ayurvedic medicine. I know. I'm that kid. It's interesting, and I like interesting things. I recently discovered pu-erh tea and I think it's the greatest thing on the planet. I'll read anything just to get to sit and drink a cup of that magic elixir.
5. 'Nuff said.
And a'course, I'm linking up with the lovely
Lauren
for this H54F!
Happy weekending!