I really intended to do a post this week between Fridays. But then, I met this cold virus, and it really intended to lay me out. Guess which one won? So, taking the lazy way out, I'm just linking up with
Lauren
again for another High Five for Friday.
1.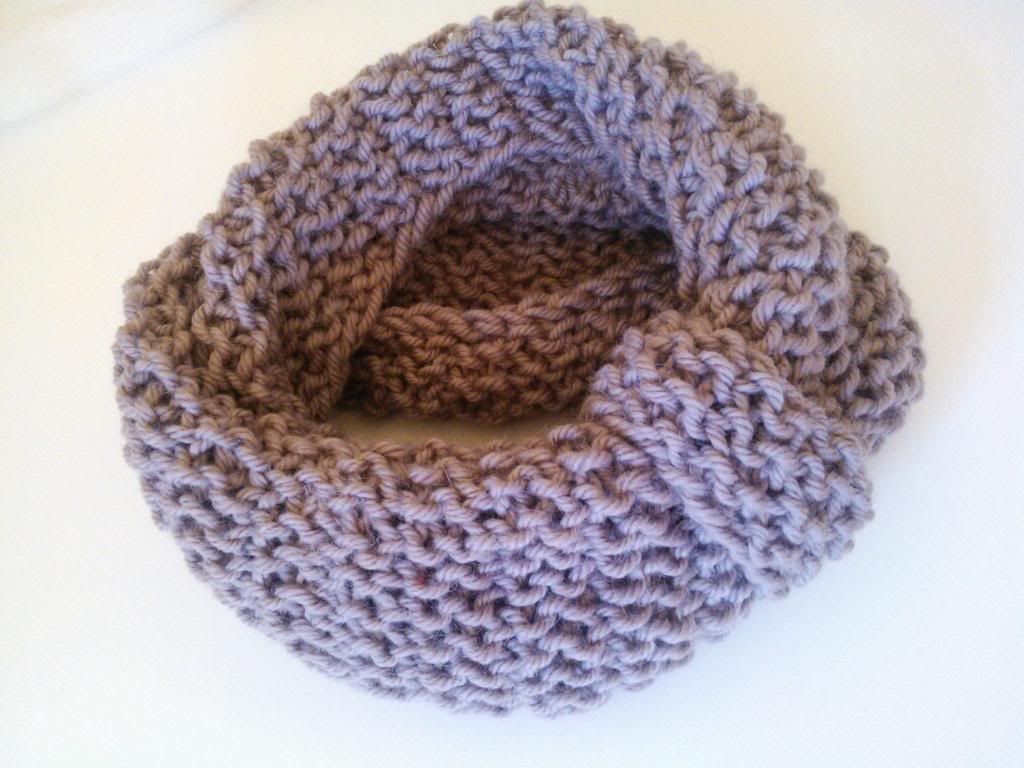 I made this
cowl
to go along with my
boot toppers
. I couldn't find a pattern that I really like, so I made my own up. This rarely works, so I was very, very pleased when it turned out nice. No picture of me in it yet, as I currently look like death. It's really cute though, trust me.
2.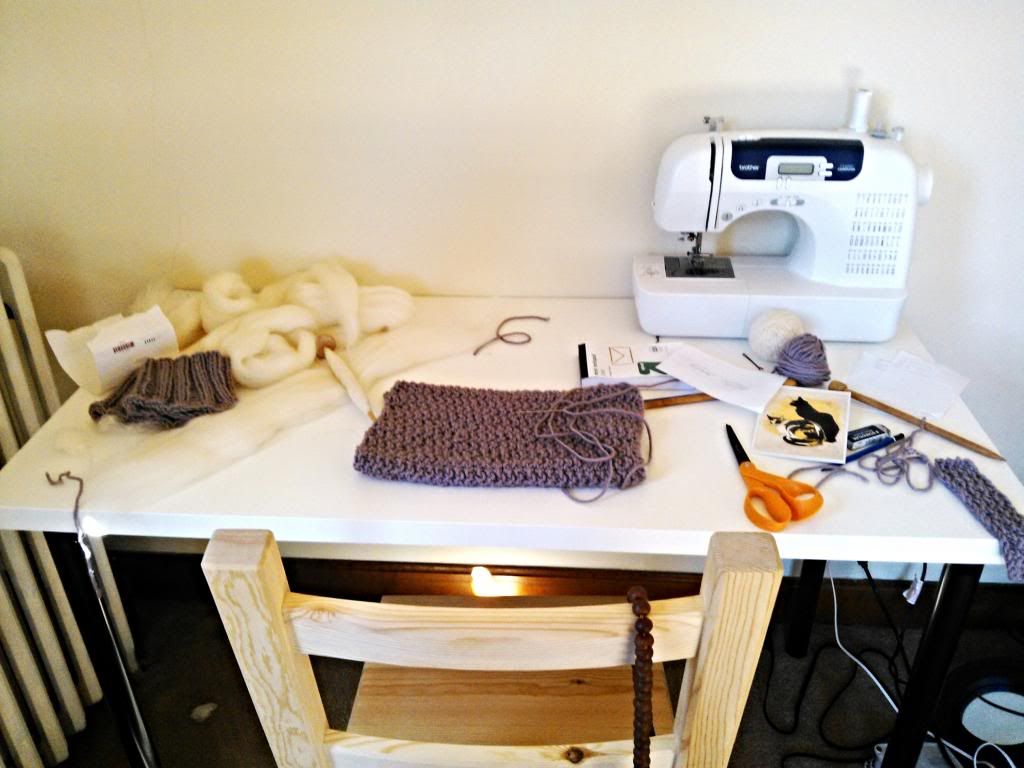 This is what my work station looked like (you can see the cowl about to be seamed up) at the beginning of this week. I was going to do a post on being productive and stuff. And then I got sick and only wanted to whine, snuffle, sneeze and cuddle under blankets.
3.
This blanket, in particular, saw most of the cuddling. Sitting next to the window with my feet up and writing in my journal has really helped me feel like a human being while sick. I'm fairly certain that these particular entries depicting my deep thoughts on saline spray will help in the decision to not publish all my of my diaries posthumously**. This picture is what I see when I look down, the next is what I see when I look up!
**we all like to think it might happen, it's fine to just go ahead and admit it.
4.
Because you all need yet another picture of my windowsill. But seriously. I love this windowsill, and what resides on it is an excellent judge of my health -- both mental and physical. Here we see a classic line-up of tea (black tea with an absurd amount of honey, which is a little unusual since I've only been drinking herbal stuff for awhile now, but when the cold-infested body asks, I deliver), water, and my friendly little statue that was a gift from my dad. This statue supposedly watches over travelers, and I've put it in a glass dish that I stole took from my parents' house because I liked it as a reminder, and a bunch of rocks that I picked up from their backyard as well. This traditional set up usually has a book, but it is often a non-fiction book because I like to feel classy and smart in the mornings. Not this week. This week it's the sixth book in Robert Jordan's Wheel of Time series. This book is starting to wane in interest for me, but that's kind of perfect when I have the brain power of a nearly-dead squirrel. Also, my trusty saline spray. This stuff is magic.
5.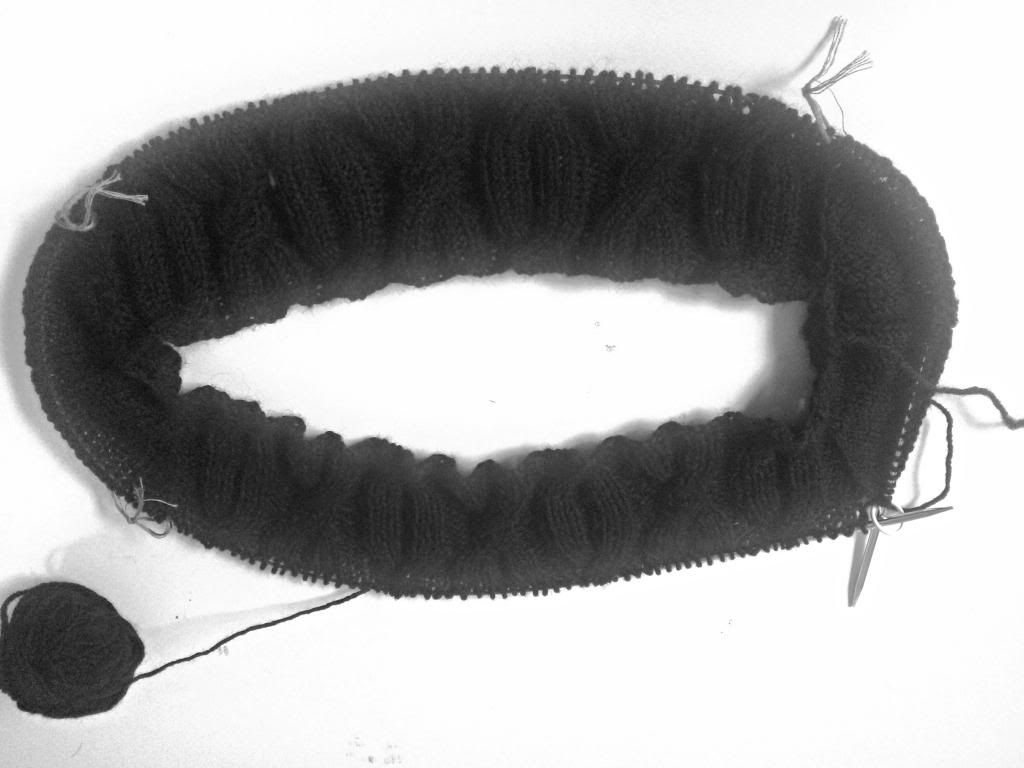 Here is the first repeat (24 rows) of my new cabled sweater! It's hard to get a good picture of black cables when the sun refuses to shine, so you'll have to forgive my not-so-subtle photoediting skills. I had to start it twice to get it going right, but I've never started a sweater right on the first try before, so that's not particularly new. I've been slowly knitting away on this all week while watching The Supersizers Go... a BBC show in which two people go about eating food and wearing costumes from various periods of history in England. It's totally disgusting and absolutely worth watching. It's been an excellent gift in this time of sludging through minutes.
And there we go! Hopefully this weekend sees me into a new, more sinus-friendly, less throat-scratchy week!